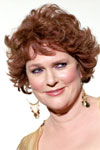 Awards attest to Sharon Gless' acting talents. Colleagues rave about her prowess playing brazen dames.
To truly understand what a superb actress she is, however, you have to understand the real Sharon Gless.
By her own admission, Gless, who co-stars in Showtime's Sunday drama "Queer as Folk," is "shy and reluctant. The roles are so brassy. I never played a character who was shy in my life. I love the way people see me and cast me."
On the fourth-year series, Gless plays Debbie, a loving mother of a gay son. She is a diner waitress with a foul mouth, political T-shirts and red hair that looks as if she lost a fight with a blind beautician.
Gless is proud of the look. "A lot of people, including my husband, say, 'I can't believe you are going on television like that,'" she says with a laugh that starts deep in her being.
"The red hair distances her from Sharon," says executive producer Daniel Lipman. "But they have the same heart."
Lipman recalls the bleak days of casting "Queer as Folk," when actors were not auditioning for the show because they did not want to play gays. Gless, however, sought this part, and it has only made her more popular. "I would not have the career I have without the gay community," she says.
Lesbians already had embraced Gless' strong cop Christine Cagney in "Cagney & Lacey," though the character was straight. And the gay community has adopted Debbie, who is also straight but completely supportive of her son. In both shows, Gless wanted to play a complex, outspoken woman.
"I smelled trouble," she says of her reaction to reading the pilot for "Queer as Folk." "And I love trouble. I expected more trouble. We were upstaged by the fact that we couldn't elect a president. We were so sure that the religious right would picket us, and I couldn't wait. We just sort of sneaked by."
If the religious right won't picket her, Gless decided to picket it. On April 25, she was part of the March for Women's Lives in Washington, D.C. "It was the first time I ever actually marched and it was the most extraordinary experience to be with one million women and the men who love them," Gless says.
She went with her husband, Barney Rosenzweig, and one of her closest friends, Tyne Daly, her partner in fighting crime in "Cagney & Lacey."
Daly recalls they met at the bar of a Hollywood party for "Roots" years before they were teamed, and they struck up a conversation praising each other's talents. "I said something to her that night and she was so impressed with it," Daly says. "I said, 'What is it?' She can't remember. I am still hanging around to find out what brilliant thing I said to her when we first met."
"She made me laugh, and continues to make me laugh," Daly says. One reason is that Gless laughs easily at herself and at life's absurdities.
Though a fifth-generation Angeleno born 61 years ago into a family with strong ties to show business, Gless got a relatively late start at 26. She knew when she was 6 that she wanted to act when she saw her classmate, Billy Chapin, on screen. She asked her mother to approach an uncle, a casting director, who "unfortunately did not believe in nepotism," she says.
She recalls her mother saying, "We both decided it was important that you finish school first and then we'll talk about it again." Ever-obedient, Gless waited until she was 18 to broach the topic. Gless then told her grandfather, Neil McCarthy, lawyer to studio bosses Louis B. Mayer and Howard Hughes, she wanted to act. "He said, 'It's a filthy business. You stay out of it,'" Gless says. "I didn't have the nerve to be impudent."
Instead, she attended a Jesuit college from which she was expelled for twice sneaking in beer. "And I don't even like beer," she says gleefully.
Her mother, realizing Gless was emotionally suffocating at home, spirited her to the bus terminal. She gave her daughter $200, and told her to stay at a YWCA after arriving at wherever she wanted to go.
Gless got off the bus in Spokane, Wash., to be near buddies. "I answered an ad at a warehouse in a shady part of town," she says. "I was wearing a pink linen suit, white gloves, a blond ponytail and heels."
They gave her the job -- selling aluminum siding door-to-door. A man in a station wagon drove her around, and she ended up apologizing to people for disturbing them. She sold nothing. "I walk up to another house and ring the bell," she says, barely suppressing the guffaw coming, "and the man in the station wagon starts honking." When she returned to the car, he explained, "That's a brick house."
"I was afraid to tell them I didn't know what aluminum siding was," she says.
After a day, Gless enrolled in secretarial school and excelled. She worked corporate jobs, then became a production secretary, and sometimes would read with auditioning actresses. Gless discovered she enjoyed acting, and because she was in charge of the payroll, she also realized how much more actresses earned.
When the production company folded, Gless was left broke and stranded in Arizona. She visited her grandfather and his new wife, who told Gless she needed to do something with her life. After they shared a bottle of champagne, Gless confessed her ambition to act. She was afraid of her grandfather's reaction, but he encouraged her, and gave her money for acting class.
Soon, Gless was in a play, where someone from Universal Studios caught her performance. The studio signed her in 1972, making Gless Universal's last contract player. The paltry standard contract had been crafted years earlier by her grandfather.
The studio made Gless watch dailies and learn from her mistakes. Today, however, Hal Sparks, who plays her son on "Queer as Folk," says, "She can't watch her own work, so she never knows how wonderful she is."
Despite the kudos, Gless says finding jobs became difficult for a while as she aged. "I hated my 50s," she says. "When I turned 60 last summer, I thought, Who is going to [insult] a 60-year-old woman? So what if you are not a size 4? Come on, cut me some slack. I am having the best time because I cut myself some slack."