Each TV series has its own anecdotes, and Queer as Folk is not different. After re-re-re…watching our favourite show, we always end up finding funny details. Here are some of them about the cast, crew and extras… .
Those who are not actors
Patrick Antosh : costume designer or actor ?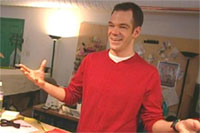 For those who still don't know Patrick Antosh, he's the costume designer on QaF. However, he also shows up on the screen once in a while when a director asks him to.
« My appearances on QaF are a bit of a running joke with us at the production offices. We have a large number of guest directors and it seems that more than a handful thinks I should do a cameo in their episode. Of course I love the opportunity, but I have never asked to be in any episode. » [Patrick Antosh on his forum]

| | |
| --- | --- |
| His first appearance was in episode 216. This one is brief but quite memorable because we see Patrick dancing on a podium at Babylon. He's the dancer who's sprayed by the bartenders. (Sorry for the low quality pictures…) | |
| | |
He also got his picture on a corn flakes box!
| | |
| --- | --- |
| Remember episode 306, when Brian presents the new TV spot for Stockwell's campaign. His assistant complains that the spot is too sexual and Brian replies "What do you think sells corn flakes? » And to prove his point, he shows them a box of corn flakes with a man wearing a red swimsuit on it... | |
| | |
If you look at this box more carefully, you'll see that the man is in fact our dear Patrick who played the model for this picture.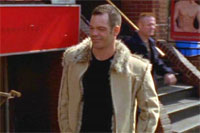 Finally, we can see him again at the beginning of episode 314, walking down Liberty Avenue.
Bruce McDonald : directing porn movies ?

| | |
| --- | --- |
| For the ones who don't know who Bruce McDonald is, he's a director who worked on several episodes of Queer as Folk, including episode 206. But did you notice he was also appearing in this episode (although he's not credited)? Remember the porn movie Zack O'Tool is shooting... well Bruce McDonald plays the director! | |
| | |
| Bruce McDonald on the set of QaF | Bruce McDonald in episode 206 |
Russell Mulcahy : director or photographer ?

| | |
| --- | --- |
| Like McDonald, Russell Mulcahy is a director who worked on QaF during season 1. And he appeared in one episode too. Episode 120 opens on a photo shooting for the King of Babylon Contest poster. The photographer is played by Mulcahy. | |
| | |
The line producer is a friend of Mel and Lindz?
| | |
| --- | --- |
| At the hospital in episode 101 and at Mel and Lindz in episode 103, you can see a gigantic blonde lesbian. It's Noella Nesdoly, QaF's line producer. | |
| | |
Those who come back
Todd : the patron of the back room :
In episode 101, Michael goes to the back room to get Brian, he stops on his way and says to a very "busy" guy:
Michael: Hey Todd, how's it going?
Todd: Fine!

In episode 201, Michael just came back from Portland, he goes to the back room to see Brian, and he stops on his way and says to a very "busy" guy:
Michael: Hey Todd, how's it going?
Todd: Fine!

Warning : Spoiler season 4 :
DIn episode 401, Brian and Justin go to the back room, Justin stops on his way and says to a very "busy" guy :
Justin : Hey Todd, how's it going?
Todd: Fine!
So here is what I came to think:
1°) I hope the guest actors are not paid according to the number of line they have or else, the actor who plays Todd (Tom Albrecht) must be quite poor!
2°) This Todd, is he addicted to the back room or what?? Does he live here?? (Who knows, there might be a bed in a corner of the room just for him!!) Or maybe he's The Back Room Keeper! lol
Captain Astro in Brian's bed ?
The same actor, Noah Danby, wakes up next to Brian in episode 105, and appears as Captain Astro at Michael's birthday party in episode 111.
The two bitches :
The two guys who make fun of Brian because he failed when cruising a trick in episode 301 are the same who inform Ben about Paul's death in episode 303 (the dark-haired one is called Jason).
The guy with a little red hat :
An extra with a little red hat and white glasses can be seen several times during the show, such as in episode 105 when Jennifer visits Debbie at the Liberty Diner, and at the Babylon, when Brian and David confront each other.
Troy :
In episode 103, Brian picks up a trick in the sauna, Troy. It's the same guy that, in episode 204, does a special favour for Ted the day of the Gay Pride. The actor is called Lee Ruhmor.
Season 4 : the tattooed guy
| | |
| --- | --- |
| The lucky people who have already seen season 4 may have noticed the guy with a quite impressive tattoo in the opening credits. The same guy appears with Brian in the steam room during episode 410. | |
| | |
Those who changed their names
Hobbs : Christian or Christopher ?
In the credits of the first episodes, we can see that Chris Hobbs' firstname is Christian. However, in episode 201, the judge calls him Christopher... did he change his name in the meantime?
Ryder : Morty or Pancho ?
In the same way, Brian's boss (Mr Ryder) is called Pancho according to the credits of the early season 1 episodes. However, when Brian introduces him to Mel in episode 114, he calls him Morty…
Those who already met before
| | |
| --- | --- |
| I'm talking about Matt Battaglia (Dru Boyd in season 4) and Robert Gant (Ben Bruckner). They both appeared in an episode of the TV show "Friends" (ep. 3.23 – 1997) where Phoebe is dating two guys in the same time: Vince, played by Matt, and Jason, played by Robert. (Don't you think Bobby changed a lot?) | |
| | |
Those whose names ring a bell
The drivers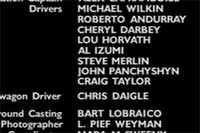 In the end credits of many episodes, you'll see a section called "Drivers". You'll be happy to know that one of the drivers is Craig Taylor (that's the name of Justin's father!). An other one is called Horvath, just like Debbie's favorite cop.
Craig Taylor appears in the credits after the first appearance of the character, so I guess it's just a coincidence (or the driver using a pseudonym).
But the character of Horvath arrives in the show a long time after the driver started working on QaF. Do you think the writers lacked inspiration and gave the character the name of a driver?
Jason Kemp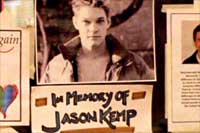 The "dumpster boy" found by Debbie in episode 210 is "played" post-mortem by Curtis Harrison. He is a young Canadian actor, and he is not related to Randy Harrison (Justin) despite a certain resemblance.
Hilliard-Forde :
In episode 314, Emmett asks Vic to take care of the "Hilliard-Forde" wedding. If you ever wondered how they came up with such a name, the answer is in the end credits. Matt Hilliard-Forde has been an assistant to the producers during all season 3.
Exit Wounds : when a movie is shot in Toronto
QaF being shot in Toronto, most of the extras are "local" people. Thus, when a movie is shot in the same city, you're likely to see a few familiar faces. That's what happened to me when I watched "Exit Wounds" featuring Steven Seagal. I heard myself yelling: "What is Zack O'Tool doing here?!!" Yes, the actor playing the porn star in QaF was playing a cop in that movie. And a few minutes later, I yelled again: "Oh! Joanie's favorite reverend!" when I saw John Ralston (reverend Butterfield in episode 209).
After a quick investigation (thanks to imdb.com), I found out that 7 actors in this movie also played in QaF!
I guess it's not surprising but I thought it was funny… so here they are:
Matthew Taylor (Zack O'Tool on QaF) is now a corrupted cop.

John Ralston (reverend Butterfield) is now dating a police chief (a SHE police chief lol)

Bobby Johnson who played Dale Wexler in 115 (Ted's S&M adept friend) is now a bodyguard.

Noah Danby (see above) who played Captain Astro is now a terrorist.

Shane Daly who played a cop twice on QaF (214 and 306) is… still a cop!

Shawn Lawrence who announced Emmett the cause of George's death in 214 is now a cop.

Michael Boisvert who's being mugged by Cody and Justin in episode 403 is now a member of a SWAT team.